I'm asking opponents of Measure O to please not talk to the press, but refer press inquiries to the Press page. This is not over.
And no, I'm not going to Disneyland.
As the storm clouds gathered this afternoon, I was thinking about the children at Westhoff Elementary School. I was wondering whether the storm would hold off long enough to allow them to leave their buildings without having to navigate wet exterior stairs. The Board broke its promise to the voters from Measure S in 2007 and left the stairs uncovered so that they could build palaces at favored schools in Diamond Bar. Luckily for the children, the rain held off until after school ended for the day.
As you might imagine, I spent the evening after the polls closed monitoring the Los Angeles County Registrar-Recorders election results pages.
As predicted, the turnout was abysmal.
On election night the measure failed by 66 votes. After the final ballots were counted, it failed by 75 votes.
Measure O
Election Night


55% needed for passage

| - | Votes | % |
| --- | --- | --- |
| Yes | 1,848 | 53.10% |
| No | 1,632 | 46.90% |
| Turnout | 3,480 | 10.79% |
Measure O
Final: Nov 6th


55% needed for passage

| - | Votes | % |
| --- | --- | --- |
| Yes | 2,259 | 53.23% |
| No | 1,985 | 46.77% |
| Turnout | 4,244 | 13.16% |
This is a break-down of the counts at each reporting increment that the county clerk posted. When available, I will post precinct by precinct results.
The hard-working people in Compton district didn't fare so well, as Measure S squeaked by with 55.83% of the vote. In the Los Angeles county portion of the Las Virgenes district, its parcel tax got 75% of the vote, comfortably above the two-thirds needed for passage. At least a parcel tax hits each property equally and is pay as you go -- no debt.
These are images of the changes posted to the county's web site. You can see that Measure O failed based on votes cast by mail and then held that margin for the balance of the night.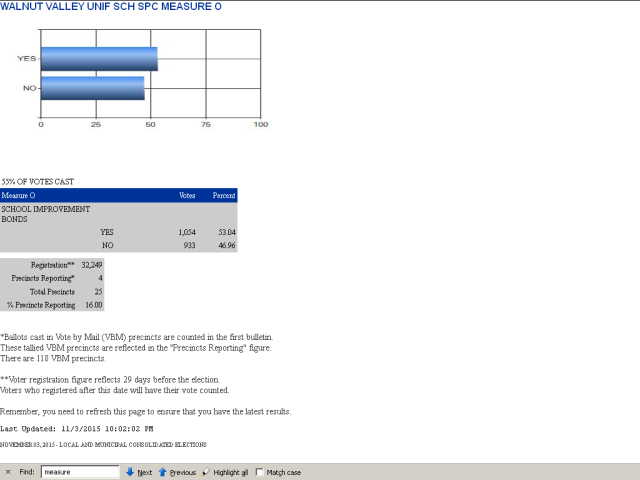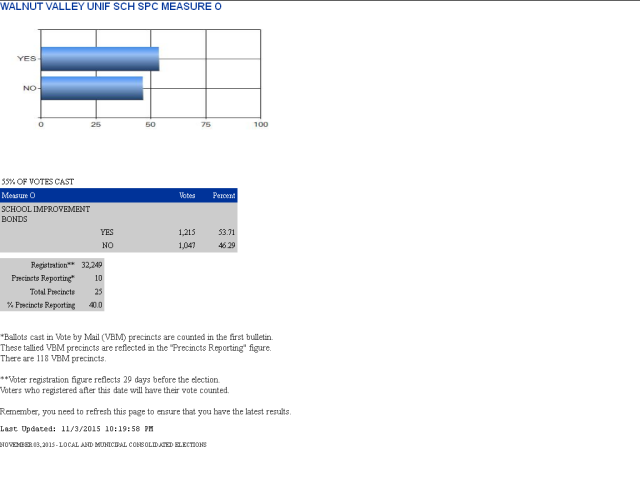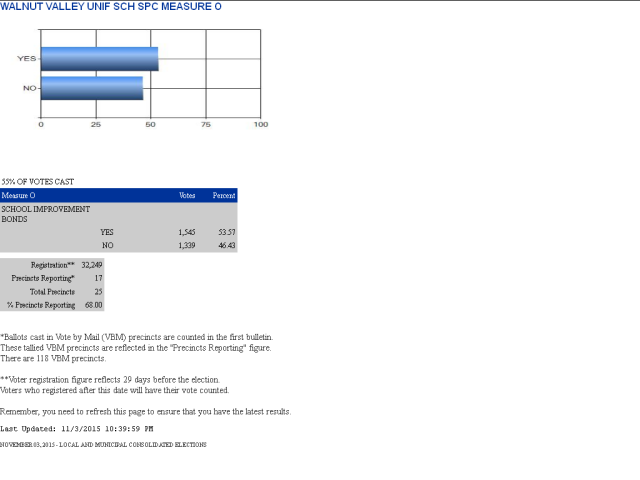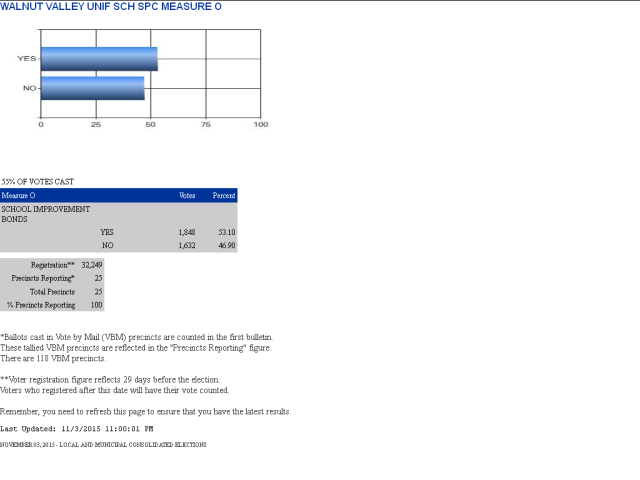 Live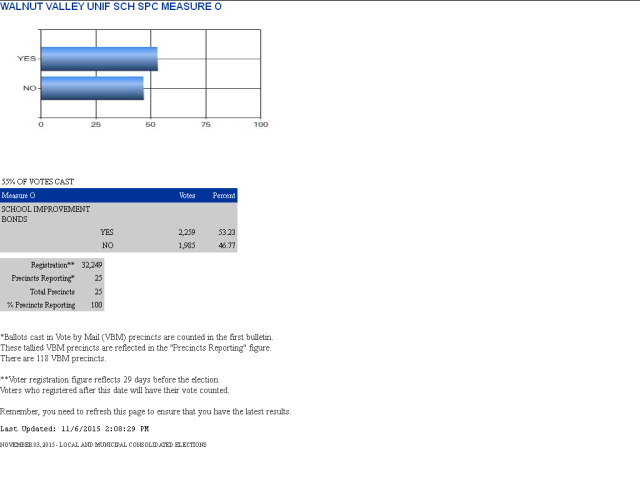 Copyright © 2015, Richard Michael. All Rights Reserved.